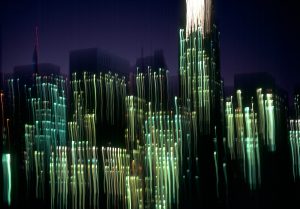 [2009]   I recently visited the future. I took the afternoon time machine from Frankfurt and was at my brother-in-law's house in New Jersey in time for dinner.
On the American telly were the CSI programmes that my partner enjoys ('It's only fake blood, so it's OK,' she assures me). But these were not the same ever- repeating episodes we see here in present- day Germany. We were looking at the stories that Deutschland will get to in a million years or so. I now know that (in the future) Danny will marry Lindsay and they'll have a daughter called Lucy. Danny will take a bullet and end up in a wheelchair. But, fear not, before the end of season 6, he will be back on his pins again. I could tell more but I wouldn't want to spoil it for you.
However, I will share this. In the future there will be television screens everywhere. The TVs in New York are now ubiquitous. They were in all the elevators at the hotel, and there was a fifty-foot bank of them behind the reception desk. They were in stores and any place where people were likely to be queuing. They were in the taxis.
Some years ago every time you got into a cab the disembodied voice of Yo-Yo Ma would tell you to put your seat belt on. Mr Ma is no longer in the transportation business but in his stead there is now a little TV mounted into the back of the driver's seat. The big advance here is that, unlike Mr Ma, this boob tube can be turned off by the passenger. This is progress.